On Thursday 25th June 2020, Heritage Petroleum Company Limited (Heritage) provided over 4000 seedlings to be distributed to 400 households as part of the Company's Corporate Social Responsibility (CSR) Initiative – Here We Grow.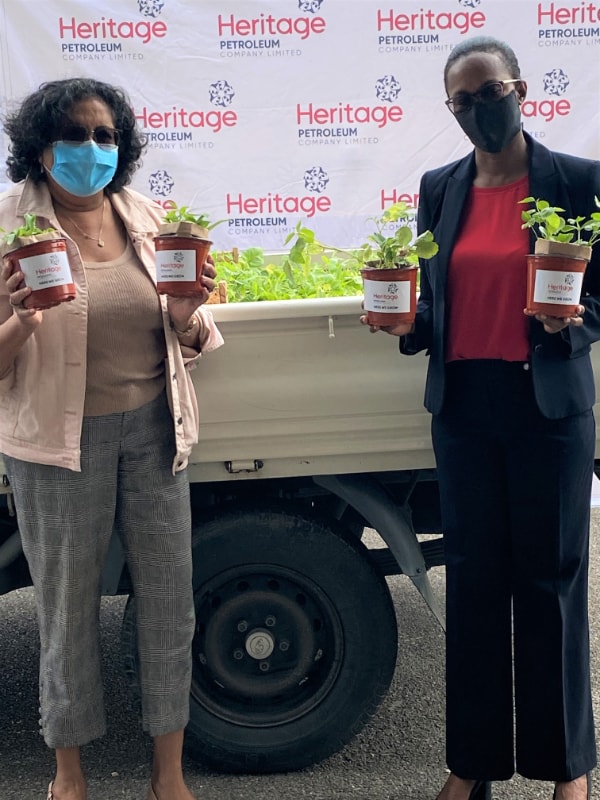 On hand for the distribution was Heritage Chief Executive Officer Arlene Chow, who emphasized that this initiative falls within a wider food security issue. "One of the things that the COVID-19 pandemic revealed is the importance of food security. We want to do our part to help families sustain themselves, especially in harder times. I grew up in Sangre Grande and our way of life was that we ate what we grew. I would pick whatever was available in the garden for dinner whether it was carilli, gingi, patchoi or melongene. I think it's very encouraging that we are starting to nurture that culture again."
Under the 'Here We Grow' CSR Initiative, each household will receive seedlings, among which include corn, pigeon peas, kale, patchoi, tomato, ochro, cabbage, eggplant, sweet pepper and sorrel.
Member of Parliament for La Brea, Ms. Nicole Olivierre collected 1000 seedlings for distribution to constituents and expressed her gratitude. She said, "Many of us would have grown up hearing that in life "we reap what we sow" and I was reminded of this today, as I thought about this life-giving initiative. Heritage continues to show meaningful and innovative ways of building lives both within and beyond their fence line community. I implore all residents to rise to the occasion and utilize the gesture to effect meaningful change in their home and community lives. It is my wish that as these seedlings donated on this day grows, that the culture and fabric of our constituency grows with it."
Collecting the other 3000 seedlings at the Heritage Santa Flora Compound, were Mr. Jason Ali, Councillor for Siparia West/Fyzabad, Ms. Dana O'Neil Gervais, Councillor for Palo Seco and Ms. Arlene Ramdeo, Councillor for Erin. The Councillors will distribute the seedling packages to members of their communities who will benefit the most from the initiative.
Heritage Petroleum Company Limited is committed to working towards providing support to its communities in a sustainable manner.