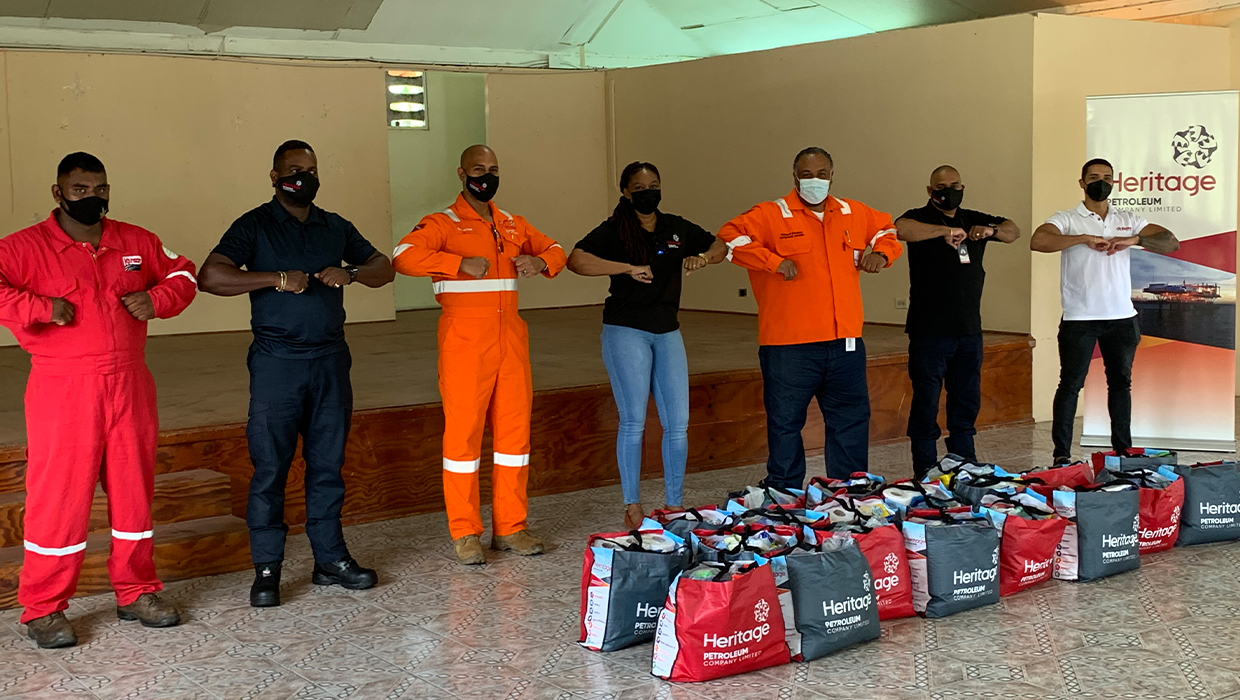 The COVID-19 Pandemic and the ensuing periods of lockdown and restrictions have been the source of economic hardship for many people throughout our society. Families residing in the communities where Heritage Petroleum operates were not spared from the challenges.
Heritage has donated almost TT $1.5 M for food hampers and seedlings and over the period of the pandemic, demonstrating its commitment to partnering with our communities towards social sustainability. Heritage has been working with elected representatives as well as Community Groups and Non-Government Organizations (NGOs) in support of social development initiatives.
Integral to the Corporate Social Responsibility strategy, is the development of a spirit of volunteerism among the staff at the company. As such, Heritage employees freely contributed out of their own pockets, close to $250,000.00 to purchase additional food hampers for vulnerable families in the communities where they work.
Our employees were on hand to assist in a recently completed distribution exercise. The Community groups receiving hampers included various Village/Community Councils, Police Youth Clubs, and Fisherfolk Associations.
Over 750 employee sponsored food hampers have been distributed and Heritage employees remain committed to continuing the spirit of volunteerism to positively impact the lives of the people in our fenceline communities.
Heritage CEO Arlene Chow said:
"Supporting social sustainability is a major underlying principle for Heritage. And while some of our plans to facilitate sustainable development in our communities were negatively impacted by COVID-19, we were able to adjust support the immediate needs in the fenceline. I want to commend the employees of Heritage for their generosity. They rose to the occasion and walked the talk in terms of volunteerism".
Acting Corporal Natasha Theodore of the Fyzabad/South Oropouche Police Youth Club said:
"We want to thank Heritage Petroleum for partnering with us to distribute food hampers to needy families in these districts and fostering better relationships with the Police Youth Club, village councils and the communities of Fyzabad/Oropouche".
The Corporate Communications Unit.